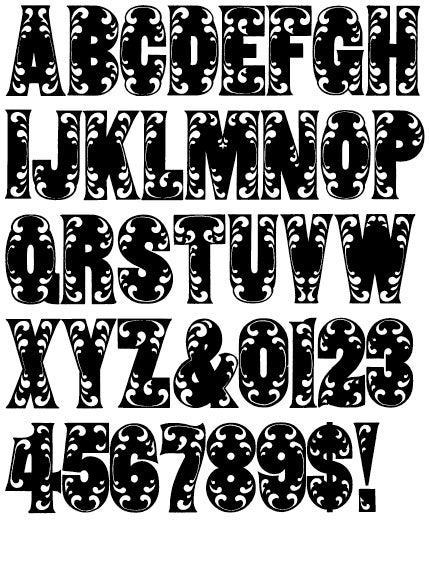 This type measures 12 line in size and was produced with the end-cut method. The type block    is stamped Hamilton, Two Rivers, Wis.  which was used by Hamilton between 1891–1950s.
This face was first shown as wood type by William H. Page in his 1878 Specimens of Wood Type.
Corinthian No 2 was not shown in  American Wood Type, but was in the folio on page 04.
Type name used by manufacturer:
Page Corinthian No 2  [429]
This cut is the Page cut.
Kelly identified this as Corinthian and noted that it was "the Page Company design shown in its 1872 catalog." Though very similar this cut is actually Corinthian No 2 which was not shown by Page until April, 1878 in Specimens of Wood Type.
Corinthian was patented in 1870 (Design Patent No 4281), as a chromatic type. The patent stated that "the letters may be printed in one or more colors." Corinthian, first shown in 1872, included linear shading inside of the reversed ornaments. These details were removed in Corinthian No. 2. This was renamed No. 429 after the Hamilton acquisition of 1891.