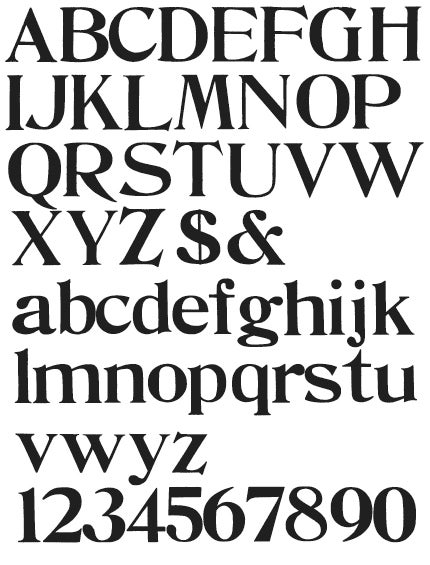 This type measures 8 line in size and was produced with the end-cut method. The type block is stamped Hamilton, Two Rivers, Wis.  which was used by Hamilton between 1891–1950s.
This face was first shown as wood type by J.E. Hamilton in his 1895 DeVinne Series Wood Type Specimens.
This cut of DeVinne was shown in  American Wood Type  on page 239 and in the folio on page 25.
Type name used by manufacturer:
Hamilton DeVinne  or No 627
Morgans & Wilcox DeVinne  [3177]
Tubbs DeVinne or  No 2183
Wells Old Style No 3  or No 124  [5159]
This is the Hamilton cut.
Hamilton produced a specimen book of DeVinne types on June 1, 1895, stated that the "DeVinne Series is made in wood by permission of the Central Type Foundry of St. Louis, Mo."
In American Metal Typefaces of the Twentieth Century, Mac McGrew stated that the design grew out of correspondence between T.L. DeVinne and J.A. St. John (Central Type Foundry of St. Louis) concerning the need of plainer display types. DeVinne originated as foundry type at the Central Type Foundry, drawn by Nicholas J. Werner and cut by Gustav Schroeder in 1890–91.