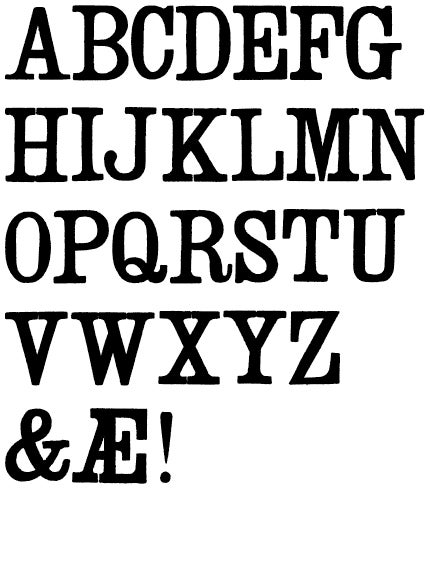 This type measures 5 line in size and was produced with the end-cut method. The type block    is stamped Wm. H. Page & Co., Greenville, Ct. which was used by Page and Mowry between 1859–1870.
This face was first shown as wood type by William H. Page in his 1865 Specimens of Wood Type.
This cut of Ionic Condensed was shown in  American Wood Type  on page 271 and in the folio on page 90.
Type name used by manufacturer:
Hamilton Ionic Condensed or  No 182
Morgans & Wilcox Ionic Condensed  [3043]
National Printers' Materials Ionic Condensed
Page Ionic Condensed  [4182]
Tubbs Ionic Condensed
Wells Ionic Condensed or  No 445 [5040]
This cut is the Page cut.
In the 1884 Hamilton & Katz Specimens of Holly Wood Type, multiple catalog numbers, No 12 and No 13, are listed for what seem to be the same design of Ionic Condensed. These multiple numbers were replaced with the single No 182 in the 1889 Specimens of Wood Type and Borders. No 182 is used here in this list as it was the only number for this cut used by Hamilton in specimen books after 1889.