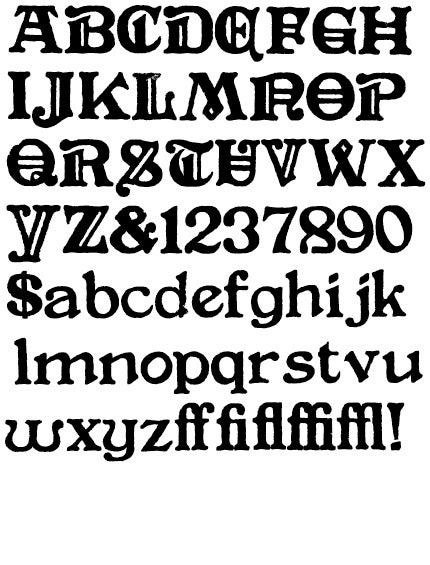 This type measures 4 line in size and was produced with the end-cut method. The type block is stamped Hamilton, Two Rivers, Wis.  which was used by Hamilton between 1891–1950s.
This face does not yet have a confirmed first showing as wood type, but must have appeared sometime between 1887 and 1891.
This cut of No 622 was not shown in  American Wood Type  but was in the folio  on page 47.
Type name used by manufacturer:
Page [622]
This is the Page cut.
Kelly noted that Page appeared to be the only company to cut this design, and was only shown by Hamilton after acquisition of Page in 1891. Kelly listed it as "No Name" in the folio, and stated that the style was a "Typical Caxton design associated with William Morris." He also notes that the capital "M" is missing, with an upside down "W" substituted in its place.
Nicolete Gray, in Nineteenth Century Ornamented Typefaces, identified the original foundry cut as Primitive, registered to Caslon in 1887.